Big Food Update #2
Haven't been cooking all that much these days...! CM and I will be going to Beijing & Inner Mongolia with some of our
Vine family
, and we are excited!!! We're also planning to go back to Shanghai for the long weekend at the end of this month to see my folks and to get some cheap pampering done :) I can't wait to go home!
Posting some recipe's this time! Please ENJOY!
Ps- If there are posts without recipe's, I will post them upon requests when I have time :)
***************************************
March 13 '06
Attempt on Korean Soondubu...
Was a bit lazy to make dinner, so decided to make good use of the Bean Paste we got from Korea. I put Tofu, Cabbage, Sliced Pork and Egg. It's easy and quick to make, and filling... and low-carb! :)
****************************************
March 17 '06
Our friends Mr. & Mrs. Rowse + Mr. & Mrs. Cook came over for dinner! The 2 lovely couples brought delicious desserts, but I forgot to take pictures :(
Bacon Tomato Wrap on a bed of spinach again, but I sprinkled some oregano this time
RECIPE
Ingredients:
1 Tomato, 8 Slices of Bacon, Salt & Pepper, Dried Parseley (or Oregano)
Cooking Instructions:
1) Cut Tomato into 8 pieces, sprinkle a tiny bit of Salt on tomato.
2) Wrap bacon around each piece of tomato, sprinkle a bit of Pepper, and use toothpick to hold the wrap together.
3) Put a tiny bit of cooking oil onto frying pan, mid-heat, and cook bacon tomato wrap. About 1 min each side.
4) Take out toothpick, and voila!
For the spinach, I reused the same frying pan, so I can have the bacon flavour on my veggie :)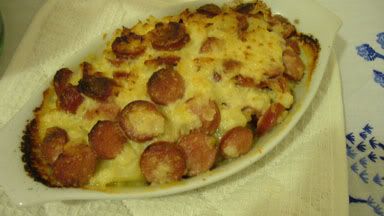 Cream Potato au Gratin
RECIPE
Ingredients:
2-3 Potatos, 1 Small Onion, 4 Sausages (Or Bacon), Salt & Pepper, Milk 100ml, Heavy Cream 100ml, 1 Pork Bullion Cube, Butter, Cheese, Dried Parseley (Or Oregano)
Cooking Instructions:
1) Peel potato, cut into 8, and soak in water for few minutes, then rinse.
2) Wrap with plastic food wrap, and put it in the microwave for around 4-6 minute (Until fully cooked)
3) Dice onion, and cut sausages 0.5cm wide.
4) Stirfry onion and sausage with butter, add pork bullion and a bit of salt & pepper.
TIP: I usually chop the bullion cube into small small pieces (almost powdery) so it melts faster.
5) Add milk and heavy cream and continue stirring.
6) Put the potatoes into heat-resistant container and sprinkle some salt, then pour (5) onto the potatoes.
7) Sprinkle (Lots of) cheese on (6) and put in oven until it melts.
TIP: Toaster oven works as well!
8) Sprinkle dried parseley and voila!
TIP: You can add mushroom's to this also. Just buy canned mushroom, drain, and add to (4)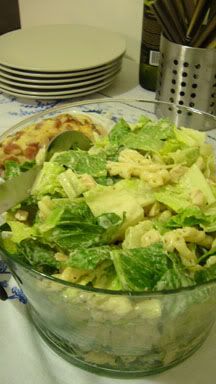 CM's Famous Caesar Salad
RECIPE
Ingredients:
Romanian Lettuce, Chicken Breast, Gemelli Pasta, Shredded Parmesan Cheese,
Cardini's Caesar Dressing
, Salt & Pepper, crushed bay leaf
Cooking Instructions:
1) Season both sides chicken breast with salt & pepper, half a bit of cornstarch, a pince of crushed bay leaf, and lots of lemon juice, then put in oven until cooked (about 15mins, depending on type of oven).
TIP: Toaster oven works as well!
2) Cook gemelli pasta and drain when done. Keep it Al dente.
3) Wash lettuce, and cut into bite size (around 1inch) while you're waiting for the chicken and the pasta to be cooked.
4) When chicken is done and cool off, cut into cubes (1cm).
5) After the pasta's been cooled off, mix it with diced chicken and shredded parmesan cheese with dressing. Add a sprinkle (or two) of pepper...
6) Mix (5) with lettuce, and sprinkle parmesan cheese if you wish. Add more dressing to round out the taste... and voila!
Mushroom Risotto
******************************************
March 22 '06
CH came over to hang out! I asked what she wanted to eat, and she said "anything healthy!" so I just made veggies and soup. She brought some "Lai Liu" shirmp over - so easy! You only need to boil. Sorry if some of the food sickens some of you, we're Chinese, y'know what I'm sayin'? :p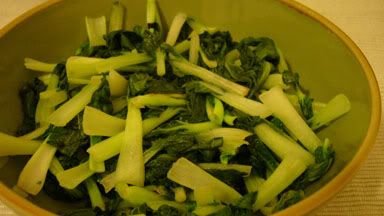 Chinese Boy Choy (I think...)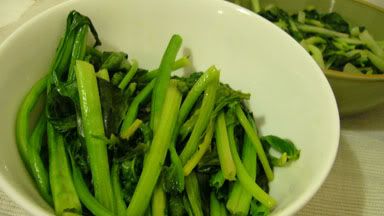 Spinach Sauteed in Butter (not too healthy but oh well)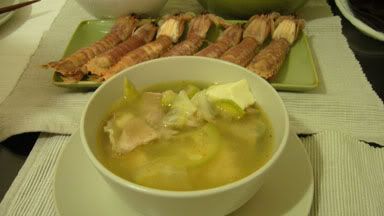 Korean Soup again, but with jade melon this time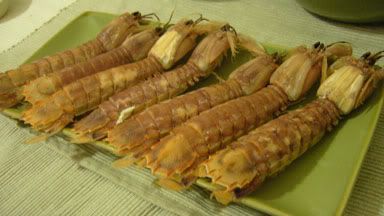 Lai Liu Shrimp (Lai Liu = peepee) don't ask. It tastes good though!
*****************************************
March 26 '06
Japanese Dinner at home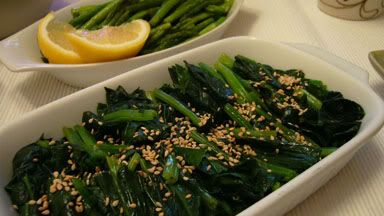 Boiled Spinach - with sprinkled sesame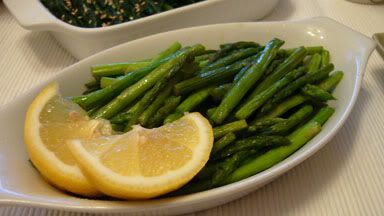 Butter Sauteed Baby Asparagus
Grilled Salmon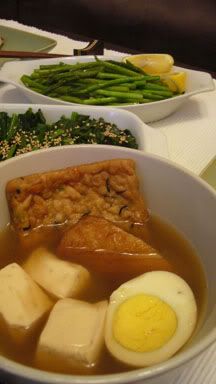 Oden
- Japanese Fish Cake Soup
***************************************
April 4 '06
I had tortilla left over from the
180's F&B Team
so I made my grandma's famous chinese pancake. She's converted mexican into chinese....!!! She usually makes it with spring onion's, but I had some sausage that was expiring so I used that as well.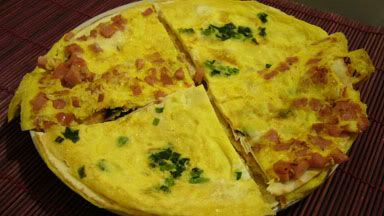 RECIPE
Ingredients: 1 Tortilla, 1 Egg, Chopped Spring Onions, Salt
Cooking Instructions:
1) Beat egg and add a bit of Salt.
2) Heat frying pan and heat tortilla (without cooking oil) and put it aside.
2) Add cooking oil to frying pan, mid heat.
3) Quickly fry spring onions, and pour egg into frying pan. (try to make the spring onion evenly spaced on frying pan)
4) Place tortilla on egg while it's still not fully cooked, so that it'll stick together.
5) Heat both sides, and voila!
TIP: You can eat it like that or with
Japanese Kewpie Mayo
, or
Bulldog Tonkastu Sauce
, or anything you like!
****************************************
April 5 '06
180 Master Life Group went to Tai Wai to eat some pigeons after our prayer retreat! Sorry if it looks disgusting... but like I said, what can we do, we're Chinese! (I am afraid of real life pigeons though)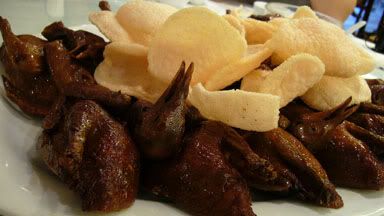 Deep Fried Pigeon with Shrimp Crackers
****************************************
April 8 '06
Breakfast & Snack
I made Pancake this morning with 3 flavours!!! Original, Cinnamon, and
Ovaltine
. No need to make 3 different batters, just sprinkle them on one side of the pancake right after you pour the batter onto hot griddle.
Pancake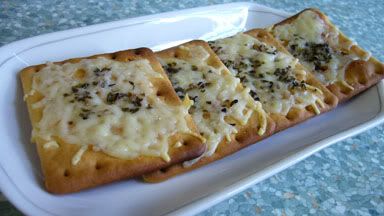 Cheese Crackers
I invented this awhile back when I was craving for some savoury stuff at home. It's quick, it's easy, and yummy :) And I would assume it's healthier than potato chips.
RECIPE
Ingredients:
Cracker, Shredded Cheese, Salt, Oregano
Cooking Instructions:
1) Sprinkle shredded cheese on cracker, along with salt and oregano.
2) Put in toaster oven, and voila!
Told ya it's easy ;)