Dinner Made From Left Over Ingredients
I try my best not to visit the supermarket when I still have food that won't last too long in the fridge. I'm not sure if its being frugal or maybe just being cheap, but I really x10 dislike wasting food! It makes me sad when I see veggies gone rotten! So anyway, I decided not to hit the supermarket today because I had left over Carrots, Jade Melon (from previous post) and Onion (from 180 F&B Pasta Salad Night!!!!!).
Freezer is one of my best friend! If you guys come and check out our freezer, you'll see so many things in there. Currently we have dumpling, pork chops, beef, bacon, chopped green onions, mussels, noodles, curry, crab sticks, blueberry, strawberry, banana... it's been real helpful to have these things handy when I decide not to go grocery shopping! It lasts so much longer when it's been preserved in the freezer. Freezer, you are awesome!!!
Tonight, I made carrot rice again. To be honest, I'm not a big fan of carrots. As long as they don't taste like carrots, its fine though, so usually, its finely chopped!
With the left over jade melon and the other carrot, I cut it into small cubes, and added into Campbell's Alphabet Soup. I think this can belongs to my sister in law JM back from E-House when Ma Brothers lived together. Anyway, I love can food too, they have a pretty good life span.
With the 2 left over onions, I used one for carro rice, and the other one I made onion beef stirfry.
Check it out... (no picture of the soup, canned soup isn't too good looking)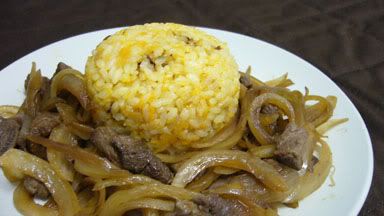 Carrot Rice with Onion Beef Stirfry