Paper Anniversary
WARNING: It may get just a tiny little bit mushy, but don't mind me.
Did you know that wedding anniversaries have special names? Check it
Here
if you want to find out more.
Tonight, CM and I celebrated our "Paper Anniversary" because we went and signed our "Papers" on the same day last year. Although our real "Paper" Anniversary will be in a few weeks time, it's always nice to do something special. CM asked what I wanted to do, but I just told him to give me a surprise and he did such a good job! I was so impressed and so happy :D
CM knows that we're starting to look into opening a cafe sometimes in the future together with
Elim Christian Bookstore
. This has been my dream and vision since highschool (to open a cafe next to our bookstore) and after speaking to one of our head people here, it's also their vision that God has given them. Nothing is confirmed yet, but it's still exciting. Anyway, CM took me to this restaurant in Stanley opened by this lady 12 years ago, and on their 10 year anniversary, she published her own cooking book. So CM got the waitress to put the cooking book on the table that he reserved and gave it to me for our "Paper" anniversary. I'm really blessed to have such a wonderful husband.
Here are pictures of food, the picture came out really dark so I had to edit it on photoshop. The quality and colour is not good, but I hope you enjoy anyhow :)
Welcome to Lucy's.
The Entrance
leek and Gruyère tart with delicious short pastry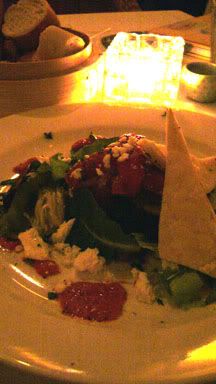 Roasted Vegetable stack w/ feta cheese
Steak Fillet w/garlic mashed potato
Grilled Salmon w/orange vinaigrette and artichoke, almond and herb couscous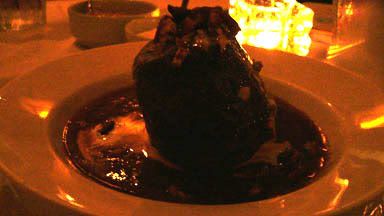 Pecan Pudding w/Toffee Cream Sauce
LUCY'S
Add:G/F, 64 Stanley Main Street,
Stanley, HK
Tel: 2813-9055